The Odu'a Museum and Hall of Fame was conceptualized by Odu'a Investment Company Limited to reflect a memory of classical gild of history, technology, people and culture. The museum showcases some ethnographic materials in arts and crafts as they relate to the occupation of the Yoruba and ingenuity of the past.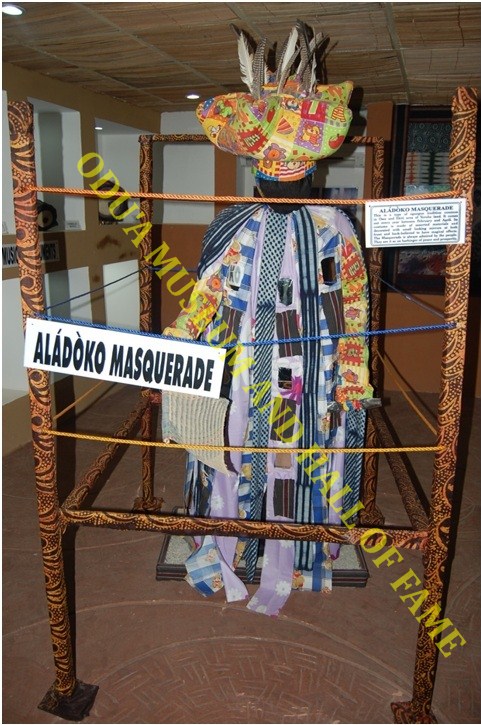 LOCATION: 23RD FLOOR, COCOA HOUSE BUILDING, DUGBE, IBADAN, OYO STATE, NIGERIA
COMMISSIONED:3RD APRIL, 2013 BY PROFESSOR WOLE SOYINKA, NOBEL LAUREATE
The Museum galleries contain materials of Yoruba technology – viz: –
• Various kinds of pottery wares and utensils
• Royal insignia
• Yoruba warfare implements
• Indigenous mats of various types
• Cloth weaving materials (Aso-Oke)
• Various kinds of calabashes and gourds
• Wood carving objects
• Various kinds of traditional farming implements
• Traditional musical instruments
• Tye and dye materials (AsoAdire)
• Products of colonial technological innovation
The Odu'a Hall Of Fame is an exploratory room of attractions and information. It contains photographs of distinguished Yoruba sons and daughters who have contributed immensely to the growth of the Yoruba nation and are regarded as pioneers in their various careers. The personalities on display are said to have met the following criteria, among others: viz: –
• An inductee must be a Yoruba person
• He/She must be first in area of endeavour/specialization
• His/her achievement must have uplifted Yoruba nation in particular and Nigeria in general
• The 'Omoluabi' concept must be evident in his/her personality
The Hall of Fame features the underlisted personalities among others – vis:-
• Chief Olusegun Obasanjo (As a military, Head of State between 1976 & 1979 and as a civilian President between 1979 & 2007
• Late Chief MKO Abiola (A businessman, Philanthropist, freedom fighter and politician)
• Michael Taiwo Akinkumi (Designer of Nigeria's flag – 'Green-White-Green')
• Mrs Anike Agbaje Williams (A broadcaster – First female face and voice on television and radio)
• Chief Obafemi Awolowo (AWO) (An Economist, Lawyer, Journalist, Administrator and Politician. He was the First Premier of the defunct Western Nigeria)
• Chief Samuel LadokeAkintola (SLA) (He was a teacher, politician, Lawyer and Administrator. He was the last premier of the defunct Western Nigeria)
• Mr Rashidi Yekini(23rd October 1963 -4th May, 2012) (A footballer – The first scorer of Nigeria's first ever World Cup goal)
• IICC Shooting stars (now known as 3sc)(This was the first Nigerian football club to win an international trophy-African Winners cup in 1976.)
• Mr Nojim Mayegun(First Nigerian to win an Olympic Bronze medal in 1964)
• Professor Wole Soyinka(Scholar, poet, playwright,Dramatist,Essayist&Activist.He is the first African Nobel Laureate in Literature)
• Dr Kunle Olasope(The first male face to be seen on the TV when commercial television broadcasting became available)
• Sir Adesoji Aderemi (1889-1980) (He was the governor of Western Nigeria between 1960 and 1962)
• Lt. Col. Adekunle Fajuyi (1926-1966) He was the first Military Governor of the former Western Region
• Lamidi Olonade Fakaye (1928-2009) (He was one of the greatest African artistes of modern times. He was a 5th generation carver of the highly respected Fakaye Family)
• Professor Ayodele Awojobi (March 12, 1937-Sept 23, 1984) (He was an erudite Scholar, Author Activist and Inventor) (He was the first African to be awarded a Doctor of Science Degree by Imperial College, London at the age of 37.
Photographs of institutions on display are:-
• The first storey building in Nigeria which was erected by Rev. Henry Townsend of Church Missionary Society (CMS) at Badagry, Lagos State in 1845. It has been declared a national monument by the Federal Government of Nigeria.
• The WNTV/WNBS: The first television station in Africa commissioned on 31st October, 1959 by Chief Obafemi Awolowo (the first Premier of the defunct Western Nigeria).
• Cocoa House Building: The first Skyscraper building in Africa formerly referred to as "ILE AWON AGBE" i.e "Farmers House" was built by the defunct Western Region of Nigeria and formally commissioned on July 30 1965.
• The University of Ibadan (Nigeria's first University Institution) was founded in January 18, 1948 and affiliated to the University of London at inception. It was relocated to the present site on 17th November, 1948.
Odu'a Management therefore, put this centre in place to showcase some objects of historical and aesthetic values that are evidence of the materials culture bequeath to us by our forebears. No doubt, it will be an eye-opener to school children, visitors and other enquirers who are interested in Yoruba cultural values.