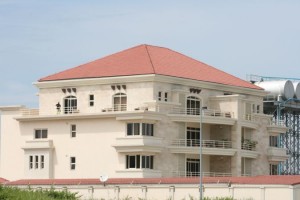 The company originally known as Ondo State Brickworks Limited was owned by the old Ondo State government. Incorporated on June 19, 1978, its plant and machinery were supplied by a German Company, ENCON, which went bankrupt more than 20 years ago. Since commissioning on November 16, 1980, the company has not been producing at its full capacity.                                                                                                   In 1987, the company was transferred to the Ondo State Investment Holding Company which brought in some private sector initiative that culminated in Odu'a Investment Company Limited being invited to take up shares and consequently, the company was reactivated in 1981.                                                                                       However, in 1998, production stopped again due to technical problems associated with replacement of spare parts.                                                                                                                         In 2007, Odu'a Investment Company Limited through Etex Group, her partner in Nigerite Limited contacted Ceratec of Belgium to help restructure the brick plant and find a core investor to operate it. Ceratec of Belgium has since carried out technical evaluation of the plant and has submitted its report to Odu'a Investment Company Limited.                                                                                                                                                                                   
                                       Odu'a is looking for partnership / investor for the company.
INSTALLED CAPACITY
                                                                                                                                                                                                                                                         The company, now known as Ire Brick Factory, located in Ire-Ekiti, is 30 minutes drive from Ekiti State capital, Ado-Ekiti. The company was established to produce 20 million building bricks per annum with at least ten different products, including foundation bricks, wall bricks, fencing bricks, engineering bricks, facing slips, sun breakers and decorative products for lintel and decking materials. There is opportunity to accommodate flooring clay tiles as well as roofing tiles. It can then be possible to complete a building from clay products.
Contact Address: Ire Clay Product Road, P.O.Box 111, Ire-Ekiti, Ekiti State                               Email: ireclay@yahoo.com