Lafia Hotel Ibadan, a member of Odu'a Group of Companies, established in 1947 is a subsidiary of Odu'a investment Company Limited.  It is the first hotel to be built in the whole of the former Western Nigeria.  It is a five star Hotel situated on a 25 acre luxuriant land, just a few kilometers outside the bustling Ibadan metropolis, on the Ibadan-Abeokuta Road.
The deliberate landscaping of the Hotel ensures the nature is utilized to create a tranquil, natural and relaxing environment for guests.  It is located on kilometer 5, Ibadan-Abeokuta expressway, remote enough from the disturbance and distraction of the bustling city, yet near enough for a quick access to do business or shopping in the ancient city.
Lafia Hotel has 59 rooms in the Royal Duplex Suite, VIP Suite, Executive suite, Double and Single room categories.  All the rooms are spacious and tastefully furnished with functional utilities such as en-suite bathrooms, colour television set, air-conditioning, refrigerators, cable satellite channels, in-house video entertainment and stationery/complimentary toilet kits, for the enjoyment and comfort of Guests.
The Hotel prides itself in the provision of first class variety of both local and international cuisines at affordable prices.  Our seasoned Chef De Cuisine ensures that meals provided can meet with standard of most discerning palettes, while the two bars are fully stocked with a wide array of drinks to accommodate any request.  Both the bar and restaurant offer 24hours service for food and drinks.
As the first hotel to be established in the old Western Region, the hotel had played a leading and prominent role in hosting significant and historic meetings in the past.  It has also played host to satisfied guest who can now be found in states comprising of the old western Region and Lagos State.  There are four (4) halls including Lafia Hall that can accommodate 2,000 guests.
Lafia Hotel adequately represents the traditional hospitable characteristics of the Yoruba people.  And this is always clearly demonstrated right from the gate up to the point of departure of our guests.  Genuine friendliness, courtesy, and consideration are continually extended to all guests by our well-motivated staff to ensure customer satisfaction.  And this is why at Lafia Hotel we have cultured a tradition of interactive patronage even after our guests have departed.  The beautiful and natural environment and setting complement our services to ensure that our guests always return.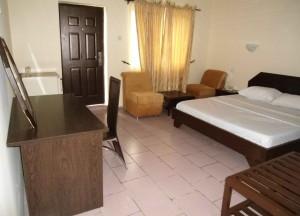 To ensure your undisturbed comfort and convenience, the hotel has adequate standby power supply and independent water supply.  Adequate security is also provided with courteous, highly trained and efficient staff to provide 24hours security and surveillance for the peace of mind of our guests.